Using stretch films around the goods can effectively protect it against various environmental factors such as moisture and dust, while at the same time securing the goods easily during transport and storage.
We offer stretch film for machine use and manual handling. In our range you will also find dispensers for hand and mini-stretch film.
Please watch our video about why thinner stretch film saves costs and environment.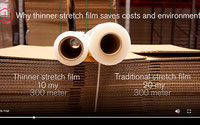 Contact us
Please contact us if you have a request or wants to know more about our offer. We make sure the right person gets back to you.