Packing is a critical flow in many businesses, where flexibility and optimisation are fundamental parameters for increased efficiency. By producing packaging material on site, integrated into the packaging process and as required, the opportunities are increased.
Cost-saving and reduced environmental impact
One change that many companies are faced with is the need for a large, varied number of packaging solutions. Products to be packed come in multiple formats, sometimes numbered in the hundreds. Integrating the production of the packaging solutions directly into your business contributes not only to cost and time savings, but also to environment-friendlier handling. This has a positive impact on transport and warehousing costs, and reduces the negative impact on the environment.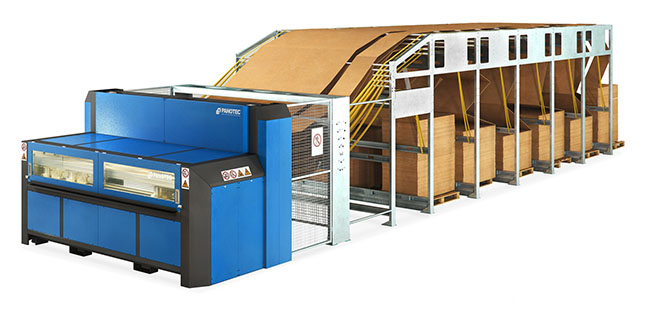 Packing on site
There are a number of different solutions in the areas of both corrugated cardboard and plastic for efficient packing on site for companies with diverse packaging needs.
Filling level up to 96%
With BoxOnDemand, you can produce the corrugated cardboard boxes you need – exactly when the need arises. The system is flexible enough to produce single boxes or batches, fully customised to meet your specific requirements.
This solution is suitable for, among others, the rapidly expanding e-commerce sector with the opportunity to increase the filling level to just over 96% compared with traditional, ready-made packaging.
Protective, flexible and versatile solution
For packing with plastic – bags, shrink wrap and banderoling – there is a broad range of machines, consisting of high-quality machines with technical solutions and impressive performance and efficiency.
Shrink wrapping gives you a protective, flexible and versatile solution that guarantees secure protection against dirt, moisture, dust and damage, while giving you an attractive, visible packaging solution that the customer appreciates. The machines handle individual products, small batches, large volumes and multi-component products. Sensitive products can also be packaged easily without the quality being harmed.