Innovative packaging solutions
Our packaging solutions mainly consist of 3 parts:
Frame trays
Injection-moulded plastics technology enables standard boxes that, traditionally, are combined with various types of insert to be replaced with clean, recyclable and stable packaging.
Frame trays are primarily used in inflows to engine or car factories and have many advantages:
Product-adapted trays used as single-use or return packaging
Great potential for a dramatic increase of component fill levels when packed on a single pallet
No extra storage for standard packaging. Always get the right amount of packaging when it is needed, resulting in less storage being required and less administration.
The trays are produced in a clean production environment, and we assume responsibility for ensuring that the plastic in the trays is reused through the auspices of an established recycling system in Europe. Effective for both the environment and component price.
Frame trays are easy to implement in parallel with other standard systems.
Examples of trays: Crankshafts, pistons, camshafts, flywheels, various engine pumps and gearbox components.
Special trays
For trays that primarily get recycled, we offer Special Trays that:
Are fully adapted to flow criteria in order to ensure optimal packaging, transportation and handling costs.
Our technology ensures that components are very well protected during transportation and storage.
Examples of trays: Various machined engine blocks, clutches, flywheels, oil pans, cooling units and steering axles.
Boxes and pallets
A unique system for a return box made from plastic that ensures high capacity to accommodate various types of product in distribution and only requires 10% of volume use in the return flow.
Exterior dimensions: 600 x 400 x 290mm and 600 x 400 x 390mm (can be customised to a particular shape)
Interior dimensions: 590 x 390 x 280/380mm = 64/87 litres
Weight: 2.9kg for the smaller box and 3.4 kg for the larger box, including lid
Material: Polypropylene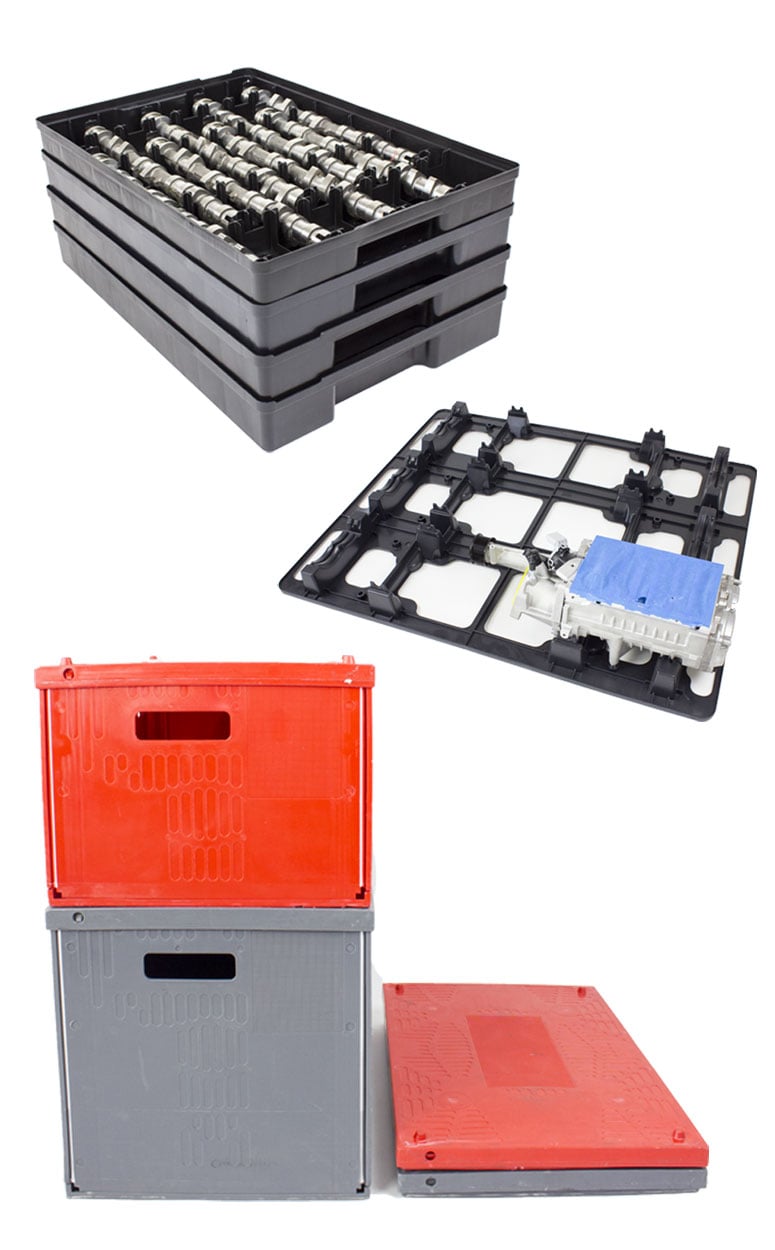 Contact us
Please contact us if you have a request or wants to know more about our offer. We make sure the right person gets back to you.