Klackabacken is housed in a newly built brewery in Önnestad, Sweden – it's an ambitious, committed and dynamic business that's turning a healthy profit and has really made a name for itself.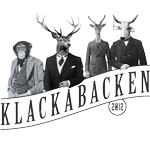 Marcus Lundmark, Christoffer Ljunggren and Olof Olsson are three friends who started Klackabacken Bryggeri AB in 2012. Their philosophy is to combine creativity and traditional know-how – clearly a successful recipe!
Customer challenge
Brewing beer is a science. Many factors have to be just right: the flavour and properties of the malt, additives and fermentation time. But you need a well-designed and distinctive logo and label to make your beer stand out and become a customer favourite.
This is where Boxon stepped in to help Klackabacken.
Boxon's solution
Klackabacken and Boxon started a stable partnership based on delivery reliability, responsiveness and the specific know-how needed for a reliable label solution. Together, we've found a well-functioning structure that we are both confident in.

We have absolutely no complaints, says Marcus Lundmark.